Why You Need Ear Protection for Your Shooting?
For all hunters and firearm users, a noise reduction device is essential to protect their ears.

A fact you must know: a gunshot can generally produce 140 decibels! The sound impact is almost equal to a jet engine!

The loud noise produced by gunshot will certainly cause permanent hearing loss to people without any noise reduction device.

Therefore, you are supposed to wear ear protection for shooting without any doubt. It is necessary to prepare a set of certified hearing protection for yourselves when participating in any kind of shooting activists

First of all, let's find out‑What Makes Great Shooting Ear Protection?

Most firearms can create a loud noise from 140 decibels (dB) to 175 decibels. Hence The Noise Reduction Rating (NRR) is a key feature that shooters should consider in priority.

Nowadays, most good ear protection devices have NNR ranging from 22dB to 30dB approximately. Generally, a higher NNR is preferable because it represents better effeteness in noise reduction.

Secondly, comfort is equally important to shooters. A comfortable earmuff or headset should be soft and large enough to avoid unwanted pressure squeezing on our heads. Earmuffs with the foldable band may be preferable since users can adjust the band to fit their heads. Besides, you may prefer relatively lightweight headsets or earmuffs since you will be carrying them on your way.

Next, durability is always important to true workers. If you shoot and hunt on a regular base, you take your ear protection devices out frequently and you want them to remain intact after long-time use.

Moreover, well-designed headsets or earmuffs are always popular. Some hearing protection earmuffs come with fancy color patterns or flashing LEDs. It depends on your personal preference so grab your favorite color or design and happy shooting!

Electronic hearing protection
Compared to traditional hearing protection products, electronic earmuffs offer some superior benefits to shooters and hunters thanks to modern technology.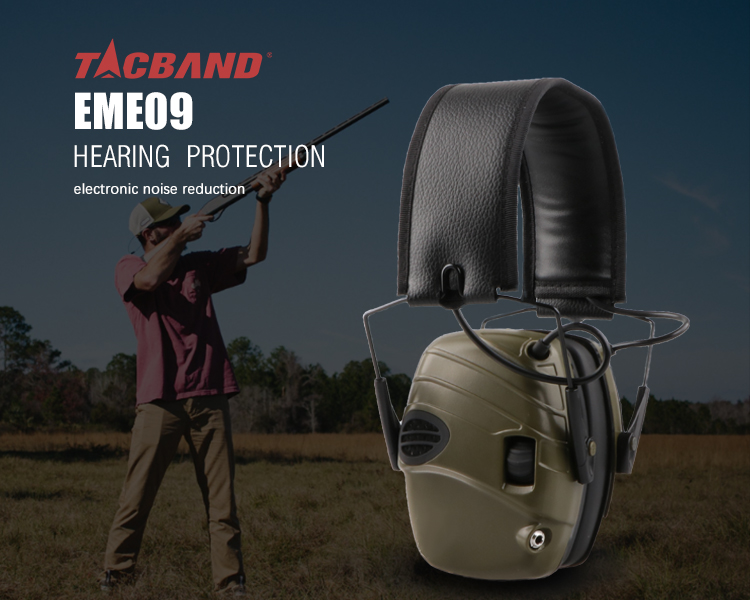 The three common designs of earmuffs are the standard over-the-head, cap-mounted, and behind-the-neck varieties. These traditional earmuffs are decent choices they are budget-friendly and offer a slightly higher NNR.

In comparison with the classic earmuffs, electronic ear protection devices offer some extraordinary advantages to users. With the latest technology, they protect users from loud noises produced by shooting and firing but simultaneously allow users to hear natural sounds from the surrounding environment. Electronic earmuffs can amplify the low decibel sound such as conversation or noises from animals. This unique feature gives hunters and tactical shooters an absolute advantage as they can listen to teammates or be aware of the situation on the field. Simultaneously, the electronic hearing protection will cut off high decibel noises over 85dB.

Many electronic hearing protection earmuffs also come with features like audio jacks, automatic shut-offs, and volume controls. Electronic ear protection devices are more expensive than the traditional hearing protection and require batteries but their benefits are well-worth their price. We offer a wild range of electronic hearing protection earmuffs for shooters and customers to serve their needs with superior quality and good value.

Tacband tips:
Protecting your eyes is equally important for your safety; therefore, always remember to wear a pair of shooting safety glasses when shooting.
These glasses are designed from shatterproof polycarbonate lenses, which provide 99.9 percent U.V. protection.
A variety of shooting safety glasses are available in Tacband with multiple styles and protection levels to choose from.
In Tacband, we have multiple series of quality ear protection manufactured and tested by professional manufactory to ensure your hearing is safe whenever you get cracking.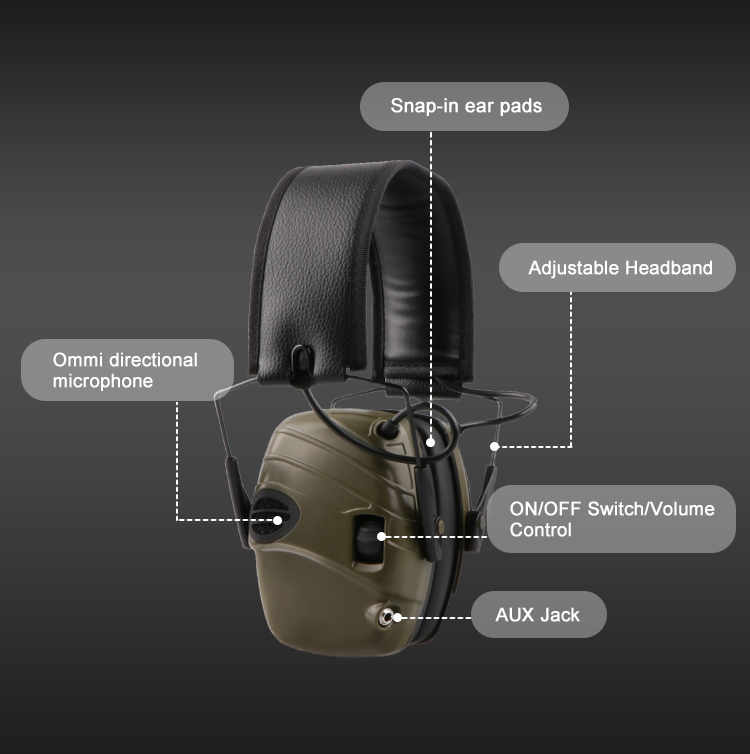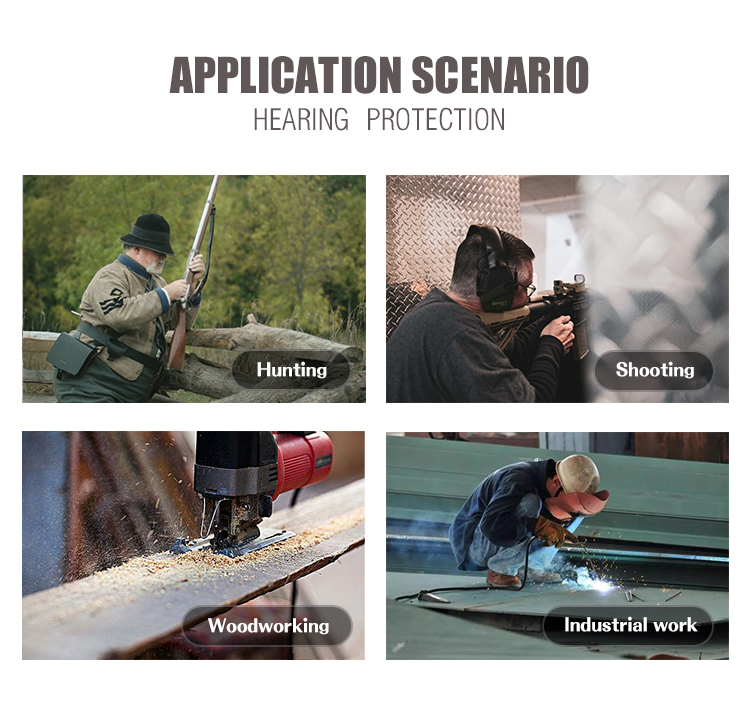 Designed for shooters, hunters, and workplace employees who need face-to-face communications in noisy environments.
* Electronic noise reduction - NRR: 24dB
* Surrounding sound enhancement
* Cut-off noise exceeding 82dB
* Low profile and light-weight design
Snap-in ear pads for easy removal and replacement
* Premium ear cushion material offers maximum wearing comfort
* Power by 2x AAA batteries (not included)
Commonly asked questions
What is the Best NRR Rating for Shooting?
Besides comfort, NRR is the essential criterion you must consider when purchasing hearing protection. Generally, it is recommended to look for hearing protection with a greater NRR number as it provides better protection for noise reduction when exposed to loud noises.
The common NRR range of hearing protection devices in the market extends from 22 dB to 33 dB. It is ideal to choose from around 24 to 28 dB.
What is safe for our hearing?
The "safe zone" for our hearing is 85 dB. Firearm shots usually generate loud noises at 140 dB. The major task of the shooting protective earmuff is to reduce the noise of the shot to an acceptable and safe level.