Tactical flashlights are versatile for most outdoor activities. Campers, hikers, hunters, EMTs, and outdoors people would need a tactical flashlight for their trips and work especially for night activities. When you need an intensive bright light for your tasks in the dark. Tacband's tactical flashlights would be your best option. All of these lights are built tough and can be relied upon when you need them. The best tactical flashlight not only sheds plenty of light on a dark situation but also provides plenty of functionality, providing a valuable means of self-defense.
In
Tacband
, we design a series of tactical lights that can be used as a flashlight or mounted on firearms as a weapon light according to your needs.
Important notes:
First, reliability is vital for all hunters, shooters, hikers, and all outdoorsmen. Our goal is to produce reliable flashlights and weapon lights with an impeccable reputation to fulfill your requirement. Tacband designs every
weapon light
with strong output and a consistent light source for your late-night mission.
The second important thing to consider is the lumen. It measures how the brightness of the light. The range from 200 to 400 lumens is ideal for tactical games. For instructors on night missions, 500- 800 lumens are great for outdoor work, especially in an open space.
If you looking for a strong flashlight and weapon light for tasks in the dark, we recommend
FW29PC-1K | Hunting or Tactical Operation Weapon Light.
The FW29PC LED light is robust and reliable for demanding operation and harsh conditions.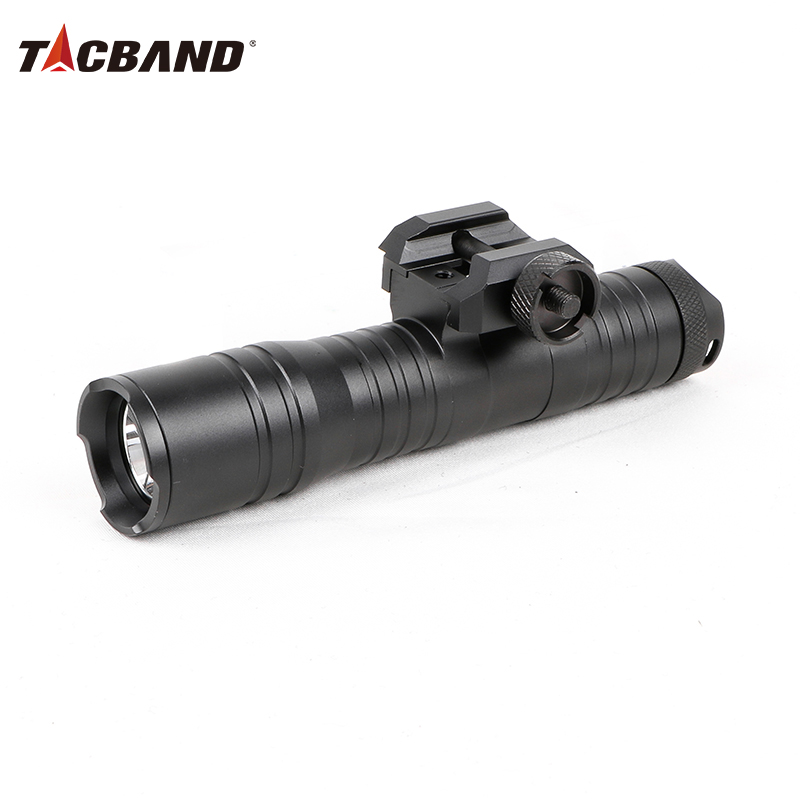 It is a one-piece tube combined with a precision CNC machined Picatinny mount made of aircraft-grade aluminum. It can easily attach to any standard 1913 Picatinny rail with the big wheel locking screw, the weapon light can be used as a handheld flashlight when in need.
The ultra-bright light of 1000 lumens beam projects up to 200m
One-piece structure with Integrated Picatinny mount
Tail press button for hand use and mouse cable remote switch for operation when mount on firearms
Dimension: φ28.5x133.6 mm
Power by 2x CR123 (not included) batteries
Tactical runtime at max output: 1.5h
1m free drop impact resistance
IPx4 waterproof
FW24M | Versatile Tactical Light
Constructed out of a one-piece aircraft-grade aluminum tube, the FW24 LED light is a standard 1-inch tube that can also be used as an EDC flashlight.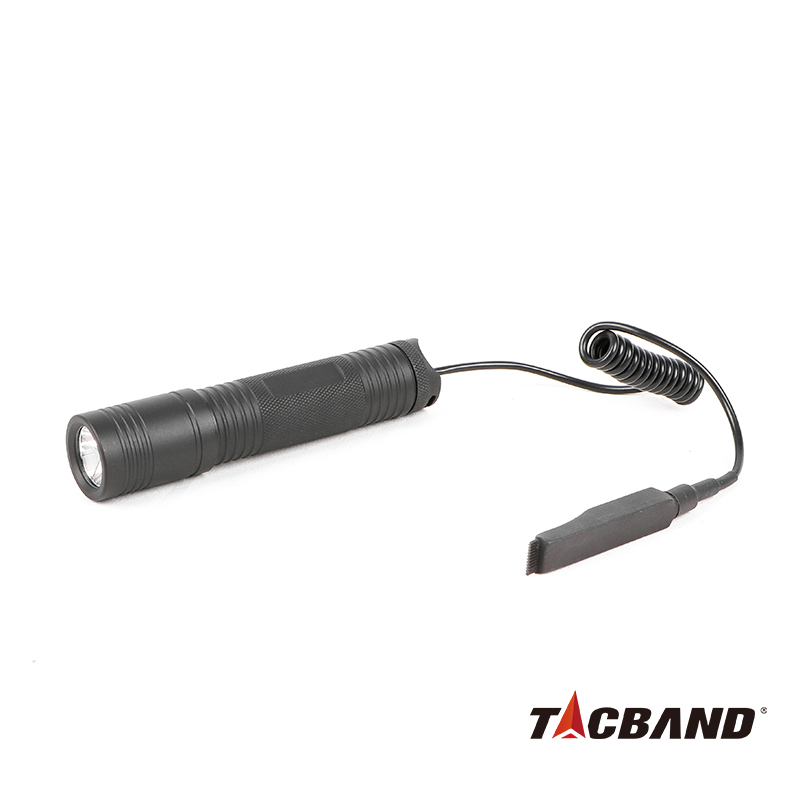 A high-lumen light that projects a bright beam that reaches over 200m, which is perfect for searching, hunting, and tactical purpose in an outdoor environment.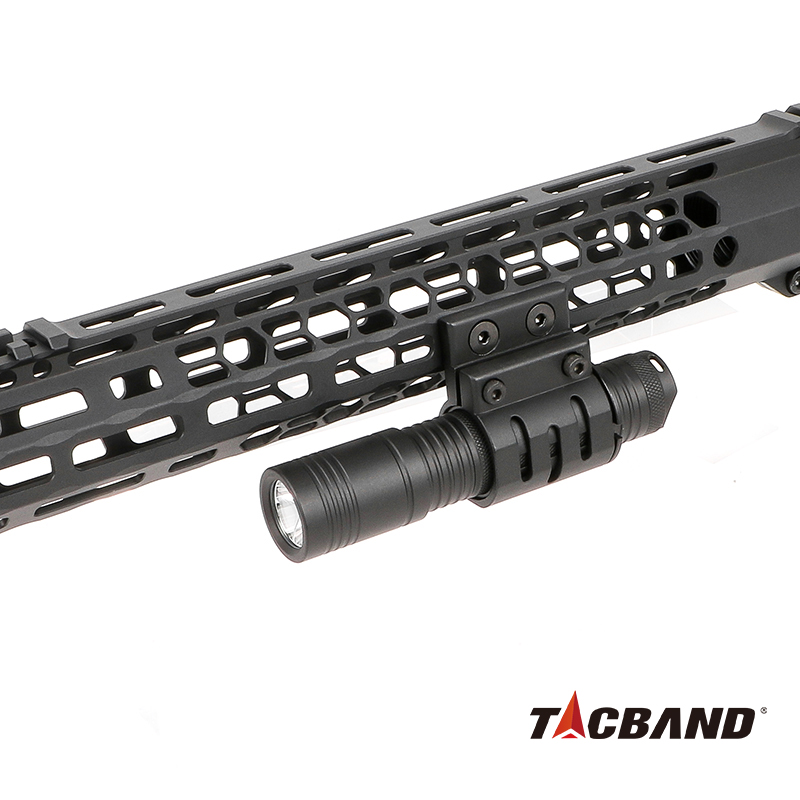 Bright 900 lumen LED projects light beam up to 219m
Comes with a ring set mounts to the M-Lok platform
Slim and compact weapon light for least load addition
1-inch rock-solid tube constructed of aircraft-grade aluminum
Tail press button for hand use and mouse cable remote switch for operation when mount on firearms
Dimension: Φ28*129 mm
Power by 1x 18650 (included) with a tactical run time of 2.5h
1m free drop impact resistance
IPx5 waterproof
However, if the light is too strong, it could not only blind your target but also blind you. So be careful when choosing a weapon for self-defense pistols. A range from 180 to 300 lumens may be suitable for this purpose.
For self-defense, a light source is crucial to see your target and what is behind it in the dark for gun use safety. Sometimes pistol lights could provide tactical advantages. For example, if someone breaks into your home at night, you could potentially "blind" the attacker temporarily by using a bright light shining directly at them.
A good mounted handgun light also gives you the freedom to use both of your hands to shoot and it gives you the ability to control the light without breaking your grip.
Should You Get a Pistol Light/Laser Combo?
The answer is an absolute 'yes'! You only got limited room to mount accessories on a pistol, so if you want a laser, a light and laser combo is the best choice. The laser will help you to lock the target easily. For training purposes, a laser helps you to see any flinching before pulling the trigger. They give you a more visible idea of any issues you have. Then, you can fix your problem during your training.
FW31G | LED Weapon Light with Green Laser Sight
The TACBAND FW31G flashlight offers the combination functions of LED light with laser sight in one. It gives you a reliable light source in the dark and its green laser will aim you effectively lock the target instinctively. The FW31G light can be easily fit to pistols with either a shorter or longer bottom rail.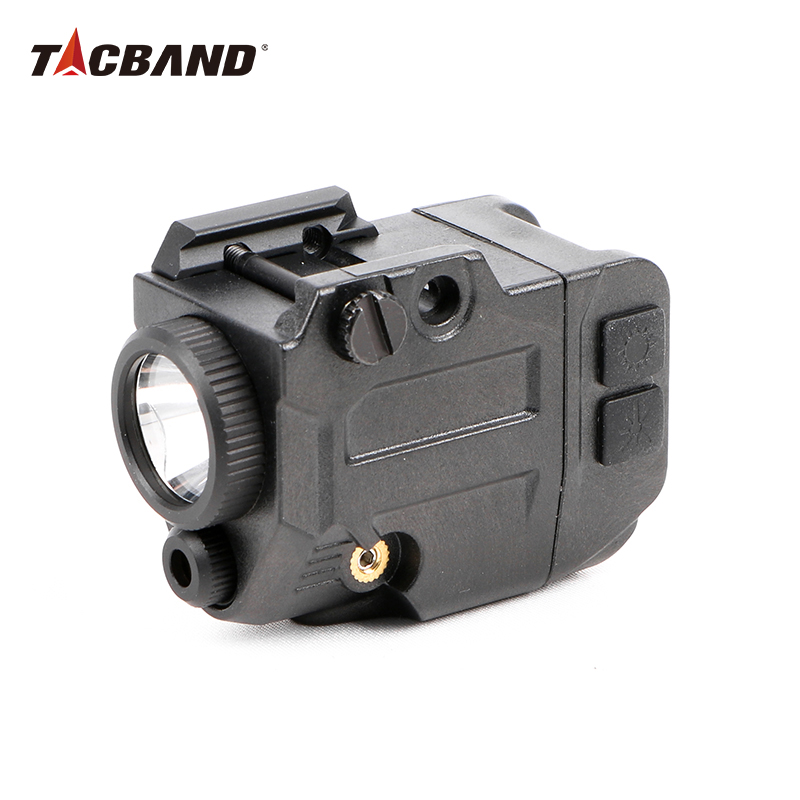 Features:
300 lumens bright light with far-reaching projection up to 160m
Integrated with green laser sight for instinctive target acquisition
Ambidextrous button switch for swift tactical operation of both hands
LED working modes: CONSTANT ON and/or STROBE
Press and hold on the LED switch for 3 seconds to switch from CONSTANT ON and STROBE
Power by a built-in rechargeable battery
Magnetic charging socket for top-up without dismounting
Easily mount to MIL-STD-1913 rail and Glock rails
With 2 locking bolt positions to adapt to firearms of different bottom rail length
VFG03 | Vertical Fore Grip Flashlight Red/Green Laser
The TACBAND VFG series tactical weapon lights with laser are designed for rifles with a bottom Picatinny rail.
The design of VFG flashlights combines a foregrip and a tactical light in one utility item, offering a stable grip and support to your rifle, and allowing shooters to control a far-reaching unveiling beam. Comes with models with or without laser sight, and options of red or green laser for your preference.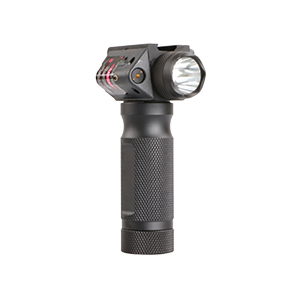 Features:
Made of Light and durable aircraft-grade 6061-T6 aluminum with a black matte finish
A quick crossbar mounting system with wing nut allows fast installation and removal of the grip to any Picatinny or Weaver rails
Powerful 180-lumen CREE LED Flashlight
Red Laser is adjustable for Windage and Elevation (Allen wrench included)
Push-button switch sets various operation modes of flashlight such as full power ON and strobing
Weight: 357g (Without Batteries)
Grip Length: 100mm/3.9 inches
Grip Diameter: 1.4inch
Power Supply: 2xCR123A (Not Included)
If powerful light is what you are looking for on your pistol. The TACBAND FW26 series pistol light
is extra compact and lightweight that adds less than 70g load to your pistol. Mini as it is, the powerful light beam unveils where it shines and lets the evils have nowhere to conceal. The high intensity of the light beam can stun your foe or intruder momentarily for tactical or defense advantage. This model has two options available: the Powerful mini (1000 lumens) and the Portable mini(300 lumens)
FW26-1K | Powerful Mini Pistol Light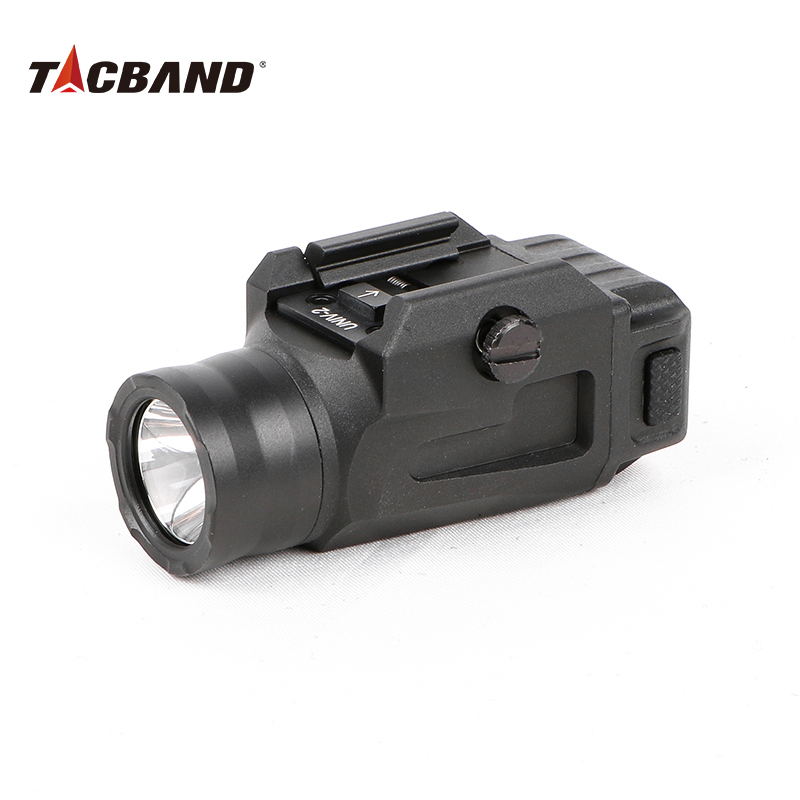 Maximum Ultra-bright light of 1000 lumens torch shines powerful beam up to 184m
Easily mount to MIL-STD-1913 rail and Glock rails
Ambidextrous button switch for swift tactical operation of both hands
Durable construction made of aircraft-grade aluminum
Battery replacement from the removable torch head
Powered by 1* 16340 rechargeable battery with a tactical run time of up to 40 minutes
Comes with a USB cable charging set
1m free drop impact resistance
IPx6 waterproof
You'll find a suitable tactical flashlight and weapon light on the above list that not only meets your EDC needs but also your tactical objectives.