Bipods are necessary tools for anyone looking to shoot extensively in prone position.
Stability is conducive to accuracy. The more stable your rifle is, the better your shooting accuracy will be.
Better accuracy isn't the only thing that a bipod can give you. It helps to carry your firearms during your hunt trips as well, especially when shooting or hunting with heavy-duty AR in some cases. Your arms and joints won't enjoy cradling a 6-pound rifle unsupported.
So, if you're planning on getting yourself and your rifle one, here are all of the things to take into consideration.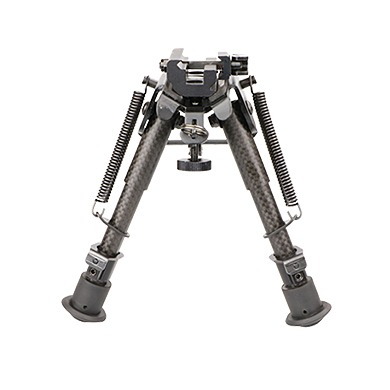 First, making sure you install you rifle bipods correctly.
Improper installation is the most common mistake shoots or hunters could make. This is likely to cause damage to both your bipod and rifles.

A bipod is either mounted too far rearwards on a picatinny rail or mounted backward.

In some cases, the bipod is not tightened down enough. Always check and ensure you setup you bipod nice and tight before hunt trips or shooting, and read the instruction carefully before installation.
Choosing a Position
Next, you must choose where to set up with your bipod.

For example, a hard surface is not a stable surface for setting up your bipod, because your rifle may shake, hop, twist and cause more pain from the recoil that bounces back.

It is better to land on softer dirt or softer surface that allow the bipod to dig into the ground, so your rifle will be more stable while targeting and firing, resulting more accurate and less pain. So, stay away from hard surface when choosing where to place your firearm with bipod.
Choosing a Bipod
If you are looking to choose a bipod, you're lucky enough to have a very wide variety of options available to you.
2 types of bipods are universal for most shooters to pick up: the rail bipod is mounted to the picatinny rails, and the sling swivel mount attaches to the sling swivel studs.
Both bipods are excellent for different purposes, and hunters and shooters can use different setup for different needs.
While both are equally stable, the sling swivel is a more popular option among shooters.

If you're unsure which will work for you, experiment with different options at the rifle range.
The best bipod for you depends on your application.
If you're shooting a big heavy .50 cal, you will need a pretty sturdy and strong bipod to support your big guy!
If you're using a lightweight .22 rifle, you can use something lightweight but still solid enough to support your AR.

It will make your life easier with a lighter bipod. Most AR-15s are fairly light in the recoil department, and you're likely to be moving around with it, unless you're just doing some target shooting at the range.
Durability of the Bipod is extremely important when selecting one. Your bipod is going to take stresses, pressure and recoil from firing. A durable bipod will last for many times of shooting and hunt trip.
If you hunt or compete a lot every year, then choose the one constructed by strong material. It'll save you money in the long run for sure.

Carbon Fiber Bipods are excellent and highly recommended.

They are relatively lightweight but very durable and solid.

Aluminum Bipods are popular as well as they are a bit more affordable with decent strength in terms of undergoing stresses.
Before you committee to your purchase, make sure you check the height of the bipod.

Majority of bipods' legs are adjustable from 6"-9", but shooters may choose the one can reaches 15" for a wider range of shooting position and angles.

There isn't strict answer for that but the height of the bipod is really a thing you need to choose depends on your requirements and situations.

Your bipod needs to be able to reach a height that is comfortable and appropriate for yourself.
Best sale Bipod in Tacband
BPS Series | Pivot Harris Style Bipod
The Tacband BPS series shooting bipods provides stable shooting support for guns with a sling swivel stud. Manufactured out from lightweight premium aircraft grade 6061-T6 aluminum that adds minimum weight but offers ruggedness and durability.
BPA-C Series | Carbon Fiber Bipod
The Tacband BPA-C series Carbon Fibre shooting bipods provide stable shooting support for guns with a sling swivel stud. Manufactured out from lightweight, great strength carbon fiber that is lighter than metal aluminum, but stronger than steel.