You will want a light that is trustworthy and simple to operate if you plan to use your self-defense firearm with it. No matter how brilliant your light is, it won't work if turning it on is difficult if it breaks. We have put together a list of some of the top pistol lights now to assist you in finding one that you can trust.
Considerations Before Purchasing a Pistol Light
Although there are so many options available, users should concentrate on how they plan to carry and use their light.
Bring Style
Options are severely constrained owing to size if you intend to carry a small or slim-frame handgun for everyday carry, especially in a Kydex holster. There are several options available whether you want a light for your service weapon or home defense, and you'll probably reduce your search based on personal preference and price range.
Brightness
In contrast to the rural Law Enforcement Officer who requires high candela for long-distance lighting, a high lumen and good spill are required if you are working as an "LEO" in an urban area near buildings and structures.
Batteries
Whether disposable or rechargeable batteries are suitable for your needs will depend on personal preference. A rechargeable light may cost more upfront but bear in mind that the cost of replacement batteries will also mount.
Powerful Pistol Light FW34G
The rail lock that enables quick attachment and removal of the light makes this model my favorite. It was the perfect handgun light for use in a holster because of the easy-to-use switches, durability, and build quality.
Key Features
1,000 lumens
2.5-hour runtime
Two CR123A batteries
IPX4 waterproof rating
The tacband FW34G, which features a precise TIR lens, has a beam that extends for mid-range engagements and also casts surrounding light for close quarters. For throwing and spilling, this combination offers exceptional all-around performance.
The user can maintain the light activated with one-handed shooting by flipping the switch up or down to activate constant-on.
With an IPX4 waterproof rating and a corrosion-resistant aluminum body, the FW34G-A pistol light was an easy choice for first place. It is a tough and reliable pistol light.
TACBAND FW28 Pistol Light
With good reason, the Tacband FW28 is one of the most popular pistol lights you'll see at the range or on your neighborhood cop's duty weapon. This easy-to-use handgun light has a bright beam and provides excellent performance at a fair price. It's perfect for tactical use or law enforcement because it lasts for 3.5 hours.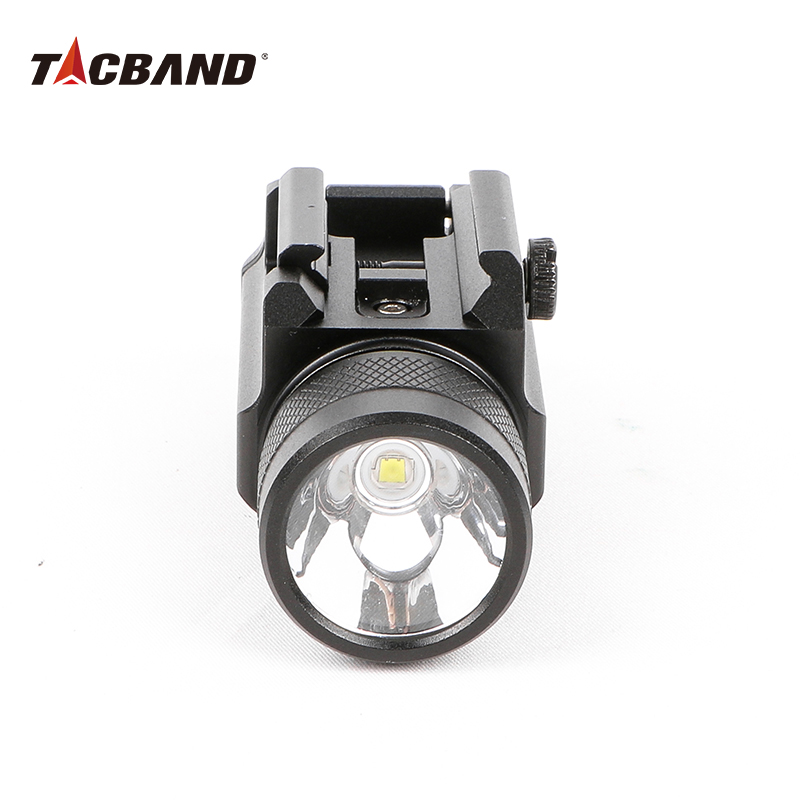 Key Features
700 lumens
3.5-hour runtime
Two CR123A batteries
Ambidextrous momentary/steady on/off switch
User programmable strobe
IPX4 waterproof rating
A focused beam with side illumination
A rail clamp mechanism without tools
Most light-bearing holsters can fit it
Most guns can attach to the key system.
TACBAND FW28 offers 7000 lumens of white light for scouring homes or searching outside areas. Since it has a wide beam pattern and good spills to illuminate sizable regions, it is well-liked by law enforcement personnel who operate in metropolitan settings.
It mounts immediately to any pistol that has either the Glock-style universal rail or MIL-STD 1913 Picatinny rails thanks to its rail clamp mechanism, which allows for rapid attachment and disconnection without the need for any tools. The light's sturdy anodized aluminum construction and IPX4 waterproof rating are a result of careful engineering, which produces a focused beam with excellent peripheral illumination.
It runs for 3.5 hours on two CR123 lithium batteries before requiring a battery replacement.
Tacband FW25 Slim Weapon Light
It is the best choice for IWB or EDC because of its small design.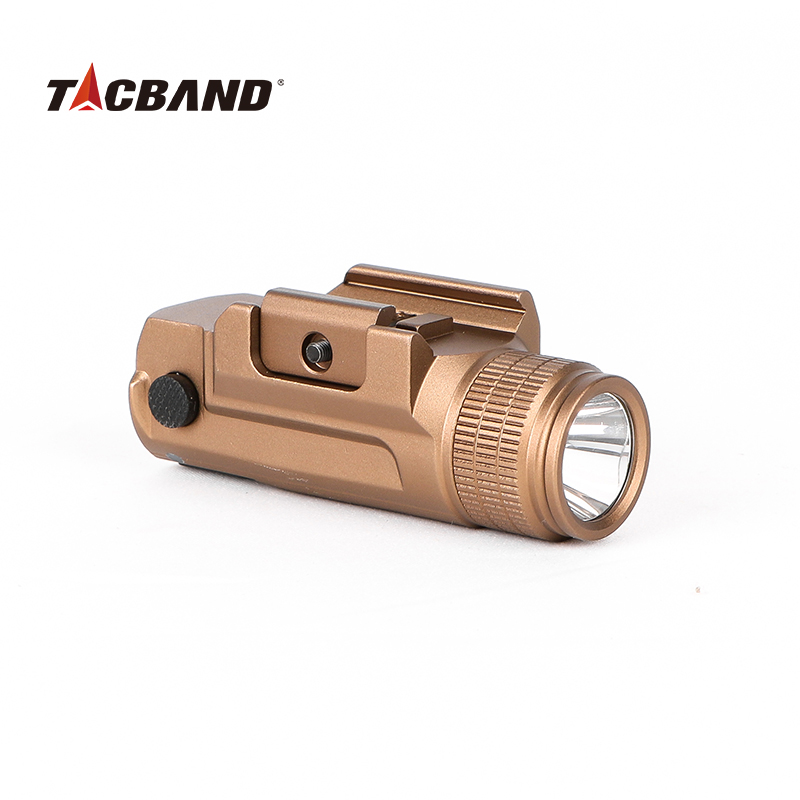 The ambidextrous rear switches can be used as momentary-on by holding down the switch for longer than half a second before releasing it, or as constant-on with a simple click on either side of the rear switches.
The sub's rail clip allows for tool-free attachment, and its light, anodized shell resists scratches. Given that it is designed to accommodate slim-frame handguns that are generally used for EDC and concealment, the light has a generous spill that, for a small pistol light, illuminates the interior of residential structures very well.
Final Words
Any defensive or duty pistol must have the greatest pistol lights. You must be able to identify threats with clarity. Never neglect pistol lights in your preparations; they might be just as important as the firearm they are mounted to.
For pistol dot sights, check out:
The Best Red Dots From Our SHOT SHOW Premium 2023