Not ready to go full-on prepper? This compact survival kit is great for roadside emergencies and around-the-house injuries. It's probably all you'll ever need.
The waterproof hard case is a fantastic start.
The compact size and assortment of tools make this an excellent option to keep in your trunk or glove box.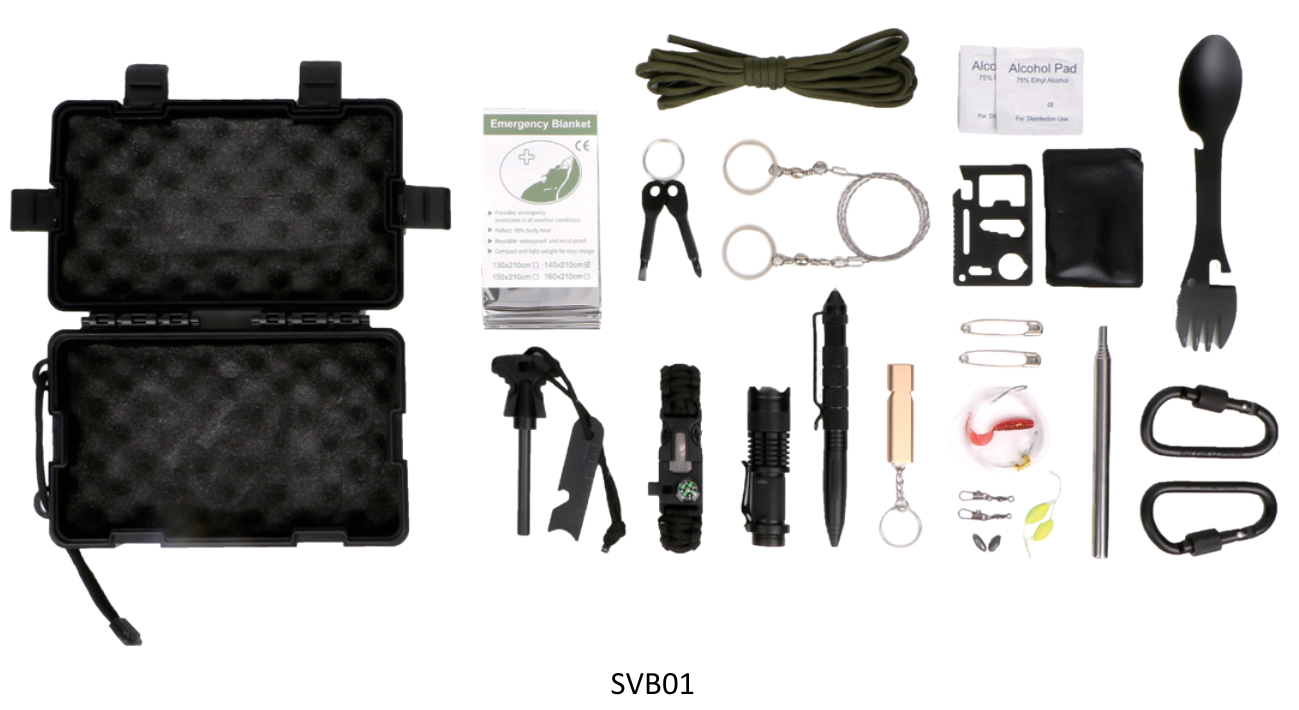 1. Tactical Pen *1
2. Screwdriver *2
3. Flashlight *1
4. Blowing Tube *1
5. Carabiner *2
6. Bracelet with Compass *1
7. Tool Card *1
8. Fire Stick Set *1
9. Wire Saw *1
10. Paracord *1
11. Alcohol Disinfection Tablets *2
12. Pin *2
13. Emergency Blanket *1
14. Soup Spoon *1
15. Fishing Tackle *1
16. Whistle *1
17. Large Waterproof Tool Box *1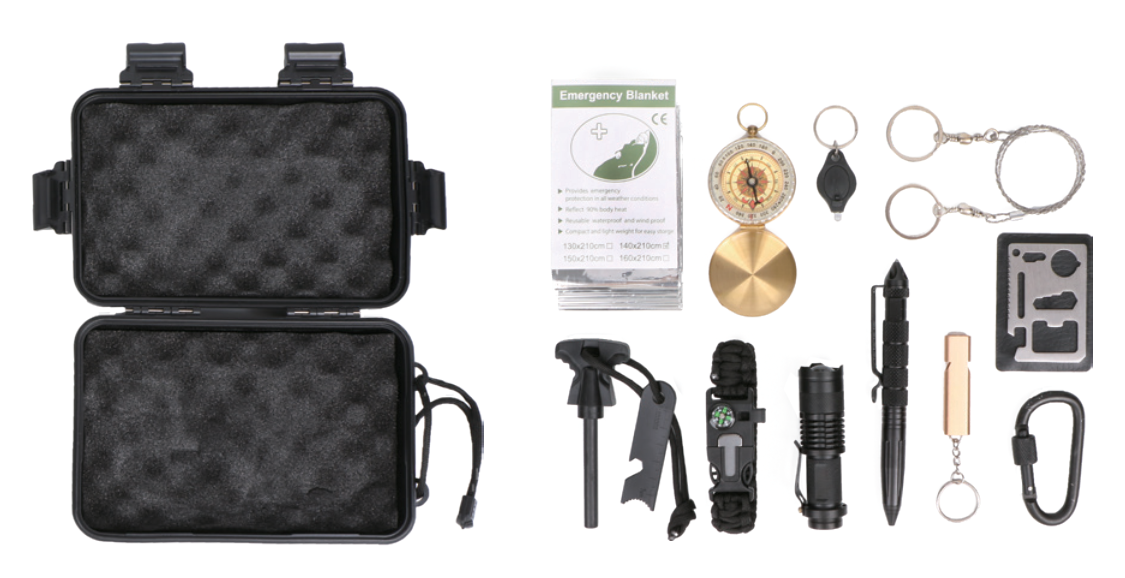 1. Emergency Blanket *1
2. Bracelet with Compass *1
3. Compass *1
4. Tool Card *1
5. Mini LED Light *1
6. Tactical Pen *1
7. Flashlight *1
8. Wire Saw *1
9. Carabiner *1
10. Fire Stick Set *1
11. Whistle *1
12. Large Waterproof Tool Box *1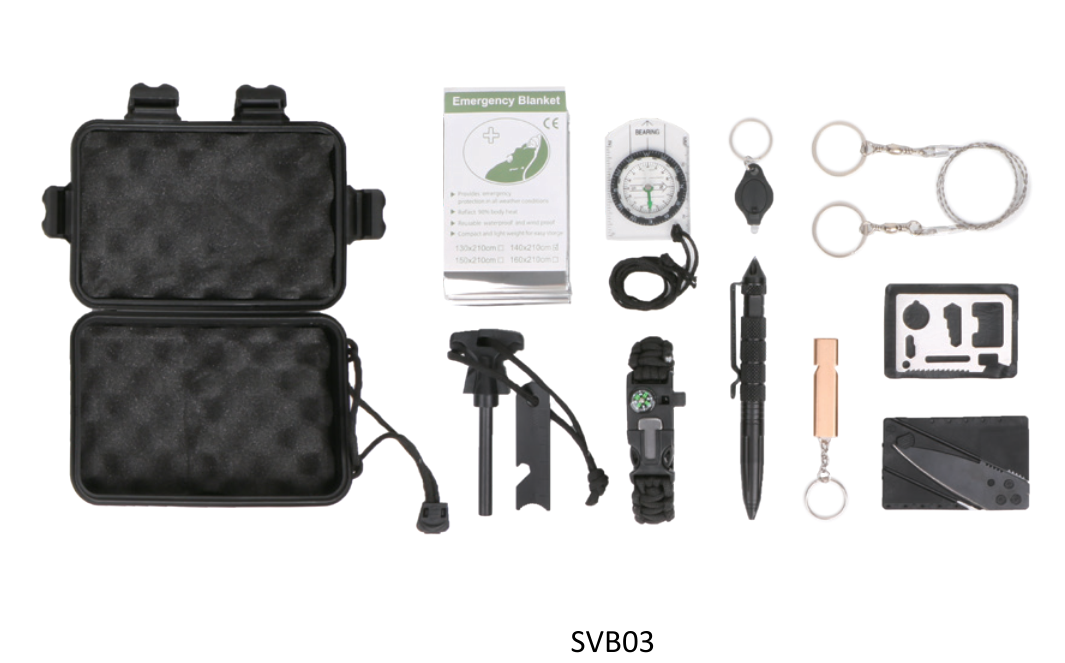 1. Tactical Pen *1
2. Emergency Blanket *1
3. Wire Saw *1
4. Compass *1
5. Fire Stick Set *1
6. Whistle *1
7. Tool Card *1
8. Mini LED Light *1
9. Paracord Bracelet *1
10. Card knife *1
11. Large Waterproof Tool Box *1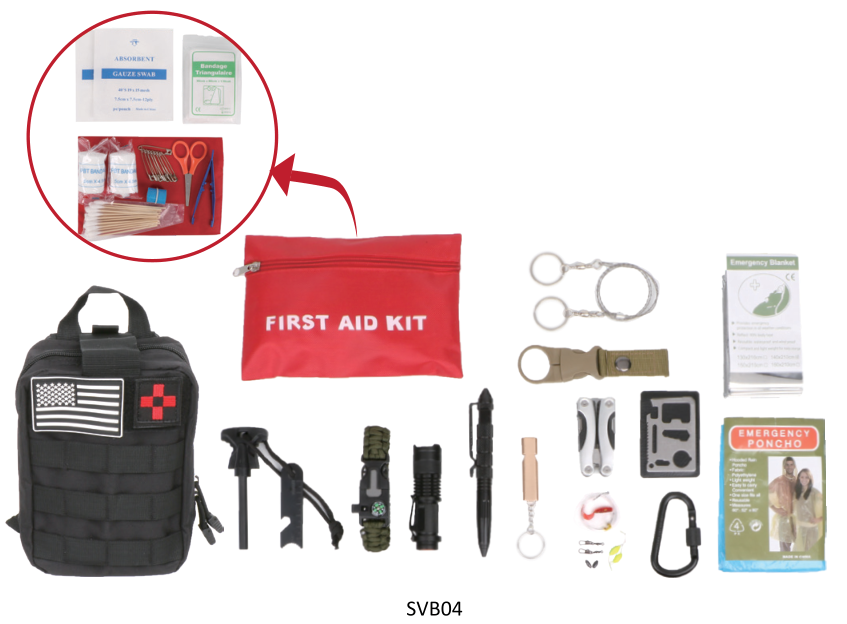 1. Raincoat *1
2. Kettle Hanging Buckle *1
3. Tactical Pen *1
4. Flashlight *1
5. Wire Saw *1
6. Whistle *1
7. Fire Stick Set *1
8. Multi-function Pliers *1
9. Carabiner *1
10. Tool Card *1
11. Bracelet with Copass *1
12. Emergency Blanket *1
13. Medical Kits *1
14. Fishing Tackle *1
15. Tactical Storage Pack *1